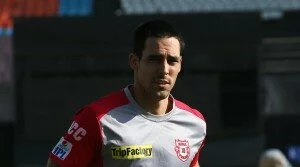 It has always been a mystery where former-Australia bowler Mitchell Johnson and India batsman Virat Kohli's rivalry began and now there is an answer to that – at least from the Aussie's side.
"We've had our differences and most of it stems from the 2014 Adelaide Test, when a ball I threw hit Virat on the body. I was legitimately trying to run him out but he didn't like what I did. When he made some comment in the media that night about having no respect for me as a player, that's when I got really annoyed," wrote Johnson in his column for Fox Sports.
The incident Johnson refers to happened on the third day of the third Test between the two sides. Johnson was on the bowling end and tried to run Kohli out but ended up hitting the batsman. While no words were exchanged then, Kohli didn't take too kindly to the attempt in the press conference.
"I respect quite a few of (the Australian players) but someone who doesn't respect me I've got no reason to respect him," Kohli said. "It was going on throughout the day. "They were calling me a spoiled brat and I said 'maybe that's the way I am, and I know you guys hate me' … and it worked in my favour I guess. "I like playing against Australia because it's very hard for them to stay calm and I don't mind an argument on the field."
Despite their differences, Johnson admits that it is Kohli's brand of competitiveness that makes him someone you would want in your team.
"Having said that, Virat is the kind of player you'd want in your team. He's a real fighter and to be honest he's a bit like most of us were in the Australian team. We go pretty hard on the field, and he's got that about him as well."
"The fact he plays the game like us is probably why we've rubbed each other the wrong way. If I sit back and digest it properly, we're actually quite similar in the way we approach the game. He's a fiery character and he pushes the boundaries, just like I've always tried to do. Maybe that's why we've clashed so often."
"I can't wait to come up against him and his Royal Challengers Bangalore teammates later in the IPL," with the fixture scheduled for 9th May.
READ: Mitchell Johnson takes a dig at Virat Kohli
This wasn't the end of as far as their rivalry and digs at each other go. Most recently, Johnson took to Twitter to have a go at Kohli before the India vs Australia virtual quarterfinal at World T20 where incidentally Kohli answered with his bat in glorious style.
Cricket fans in India can get intimidating
Johnson also opened up on the difference in culture between India and Australia as far as treatment of cricketers is concerned. He wrote that the passion displayed on the field and off it needs to be matched because of the expectations.
"There was a time last year when I felt a bit concerned about my safety. It wasn't that we were in serious danger – although it felt close – but the sheer number of people involved made the whole experience pretty intimidating," he started."
"After having a quiet meal with a couple of my Kings XI Punjab teammates in a Dharamsala restaurant, we began to make our way to the exit. As we walked down several flights of stairs people began to notice us, and seemingly within seconds there were people hanging off doors just to get a look at us."
"Eventually we made it to our car and there were just people everywhere. Things soon escalated and before I knew it I had people grabbing onto me, just trying to touch me. I had to whack their arms off me just to get into the car. Then they started shaking the car."
"It was a whole new experience and pretty crazy. However I want to make it clear the people that day had no intention of hurting me – they're just so fanatical and so excited to see cricketers and this is the way they express that fanaticism," he explained in detail.
Johnson though shared that there are some fans who express it in less intimidating ways as well possibly because they are nervous to ask for a photo. But he also empathised with the Indian fans by saying, "At times you've just got to accept this is what life is like as a cricketer in India. The locals hardly ever get to see their heroes up close in the flesh so it's understandable how passionate they are when they see us."

0

0