Introduction
This is the part where we normally introduce our readers to the device being reviewed, but seriously, does the iPad need an introduction? Not really. Six years ago, it single-handedly defined what a modern tablet should look and feel like. Today, it is the only tablet that matters in a segment of the mobile industry clutched by stagnation. And the iPad Pro 9.7 – the newest member in the lineup – further solidifies Apple's position as a leader on the tablet scene.
Bearing a "Pro" in its name, the iPad Pro 9.7 adopts most of what we loved about the 12.9-inch model from last year – the duet of productivity-oriented accessories, the outstanding 4-speaker sound setup, the performance of Apple's most powerful mobile processor, to name a few examples. With this new model, it all comes at a size that's more manageable, more portable, more familiar to users, sprinkled with a few extra bits we're going to mention in a moment. But at the end of the day, the iPad Pro 9.7 is an expensive piece of kit, starting at $599 without accessories. Is the figure justified?
In the box:
iPad Pro 9.7
USB to Lightning cable
10W Wall Charger
Quick start guide
2 Apple decals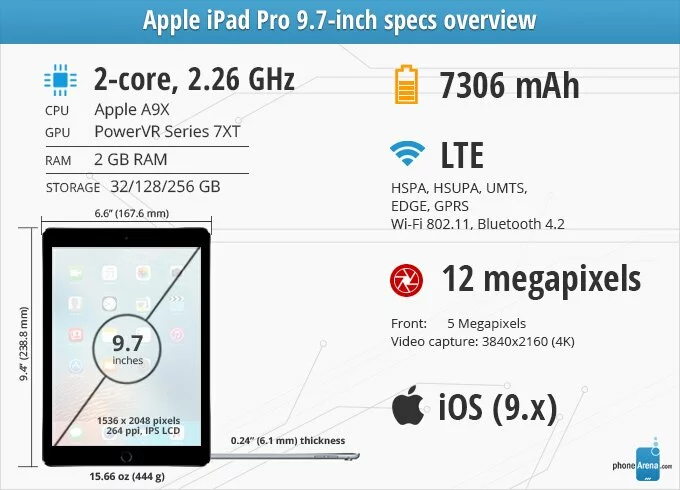 Design
Yup, it's an iPad alright – sleek, pretty, portable, and… familiar. Too familiar, perhaps. In fact, if you put an iPad Pro 9.7 next to an iPad Air 2, you might have a hard time telling them apart. The weight, dimensions, and overall design of the two models don't just come close. They're identical. And how are people around us to notice that we've upgraded?
Oh yes, the color! The iPad Pro 9.7 comes in Rose Gold, adding another option alongside the silver, gray, and gold variants we've already seen. So far this is the only iPad – and one of the very few tablets, for that matter – to be available in the trendy hue.
Colors aside, the newest iPad adopts all the design traits an iPad is known for. Meticulously crafted, the tablet's metal body is pleasant to the touch and a beauty to behold. Its buttons – a pair of volume keys and a the home button with built-in Touch ID fingerprint reader – are conveniently placed and easy to operate. This is why we don't really mind Apple sticking to its tried and tested design formula – there's pretty much nothing in urgent need of change.
But there's this one thing sticking out… Literally. That's the protruding camera module spoiling the otherwise perfectly flat back side of the device. Still, we'll swallow that, knowing that the snapper is supposed to be a great one. And no, it doesn't make the tablet wobble, in case you're wondering.
Display
At a glance, not a whole lot of surprises become apparent. The 9.7-inch iPad Pro comes with a 1536×2048-pixel display at a 3:4 aspect ratio, just like the iPad Air 2. This gives it 264 pixels per inch, which is perfectly sufficient for a tablet. And it is a thing of beauty! Anything from high-res images and video to fine text and 3D graphics looks splendid on the iPad's screen. On the downside, we're disappointed to see no 3D Touch functionality here, the reason for its omission still being unclear.
One thing that's new is the so-called True Tone Display technology, exclusive to the iPad Pro 9.7 as of this writing. In simple terms, it makes the display "colder" or "warmer" to match the temperature of the ambient lighting. The display should look more natural as a result of the color fine-tuning – "almost like looking at a sheet of paper", as Apple puts it. Perhaps "almost" is too strong of a word, as we can't really see a dramatic difference. The color shift is really there, but it is very subtle, and we definitely don't feel like reading a book or a magazine when using our iPad. The real benefit of True Tone Display, in our opinion, is that it eliminates the blueish tone of the tablet's display. Regardless of the lighting conditions, whites really do look milky white, not bluish as they would appear on most other mobile screens.
True Tone Display should not be confused with Night Shift, which is another color-shifting feature found on the iPad Pro 9.7. When active, the latter filters out blue light during the night hours, thus making the screen go easy on the user's eyes. You can read more on the matter in our article dedicated to how Apple Night Shift works.
Speaking of colors, the iPad Pro 9.7 displays them beautifully and faithfully, as confirmed by our display measurements. All shades across the spectrum meet their target values with only slight, if any, deviations. There are some inconsistencies with the various shades of gray, but they're tolerable.
We must also applaud Apple for delivering a tablet that's easy to use even in broad daylight. The iPad Pro 9.7 shines with over 500 nits of brightness, which, when combined with its low reflectivity, translates to great outdoor visibility.