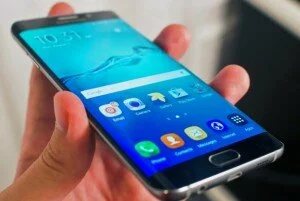 Samsung Galaxy S7 and Samsung Galaxy S7 edge are receiving a 156MB software update that corrects the shape of "skewed pictures." That means that parts of photographs with distorted shapes are corrected automatically. The new update, to software build XXU1APD1, also rejects accidental touches with the palm against the curved side of the Galaxy S7 edge screen. If those palm touches aren't seen as being accidental by the touch screen, regular taps on the display won't be recognized by the phone.
While the update is rolling out now in Europe, as we have already pointed out, those in the U.S. sporting a carrier branded version of either phone will have to wait for their wireless operator to start sending it out to their subscribers. That is a process that many of you are all too familiar with. The carriers need to test any update before it gets pushed out to phones that are using their network.
You can try to manually pull out the update by tapping on Settings » About device. After you install the update, you will find a new toggle in camera settings that is called "Shape correction." With the update toggled on, your phone will automatically correct shapes that appear distorted.