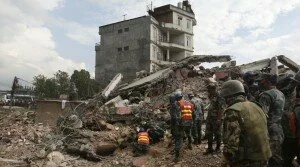 Kathmandu, May 4 At least 41 Indians are among 57 foreigners killed in Nepal in the powerful earthquake that left a trail of devastation and suffering, flattening buildings and uprooting electric poles and trees.
The number of Indian nationals killed in the quake has reached 41, according to a statement issued by Nepal Police.
A total of 57 foreigners have been killed in the quake.
"So far, 7,276 people have died and another 14,267 people were injured in the quake," the statement said.
At least 10 Indians were among injured, it added.
Finance Minister Ram Sharan Mahat has said that the death toll is expected to climb "much higher".
Meanwhile, an Indian Air Force team has rescued 22 Buddhist monks from a remote village of Gorkha district, the epicenter of the devastating earthquake on April 25.
The monks were rescued by Indian Army helicopters from Hinang Gompa, according to Indian Embassy sources here.
India's youngest Everest summitteer Arjun Vajpai was also rescued from Makalu base camp and flown to Kathmandu. Vajpai has been rescued by Nepal Army team from the mountain area.
Fresh aftershocks, including one measuring 4.3 on the Richter Scale yesterday, sent a fresh wave of panic among people, most of whom have been staying in the open battling bad weather and scarce food and water supplies following the country's worst earthquake in 80 years.
Nepal parties have agreed that all those interested in carrying out relief work in the country can start at once, without having to route the process through the government.
A report released by the UN Office for the Coordination of Humanitarian Affairs said the number of houses destroyed in the country is over 1,60,000, nearly twice the number of households wrecked in the 1934's deadly temblor that has been the country's worst disaster of all times.
The UN urged Nepal to relax customs controls which it says are holding up deliveries of aid coming from countries around the world from reaching the survivors.
Nepal lifted import taxes on tarpaulins and tents on Friday but home ministry spokesman Laxmi Prasad Dhakal said all goods arriving from abroad had to be inspected.
Aid agencies have warned that remote mountainous areas in the country have suffered "almost total devastation".ees.