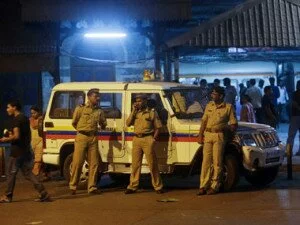 Mumbai, May 4 Taking a dig at Maharashtra Chief Minister Devendra Fadnavis over the killing of a Mumbai Police inspector by a junior officer, the Shiv Sena has said he may claim to be an "overtime" Home Minister but policemen are stressed for being made to work extra hours.
"Like farmers, instances of policemen committing suicide are also on the rise. But will the Home Department only treat this incident like any other suicide or murder and close the file? If those who are supposed to maintain law and order lose their mental balance, more drastic cases of violence may come to the fore in future," an editorial in Shiv Sena mouthpiece 'Saamana' said today.
"Recently, Chief Minister Devendra Fadnavis had said that he is not a part-time Home Minister, but an overtime Home Minister. While his statement may be true, it is also a fact that policemen are tired of being made to work overtime," the Sena said.
Senior Inspector Vilas Joshi was shot by assistant sub-inspector Dilip Shirke at Vakola police station here on Saturday before the latter shot himself to death. Joshi later succumbed to his injuries.
According to police, Shirke was absent on Friday, though he was assigned night duty. When he was reprimanded by Joshi for "irresponsible behaviour," Shirke allegedly opened fire at him and then committed suicide by shooting himself.
The Sena said the pride of the police department and their strengths will remain intact only if stray incidents like this are avoided in future.
"Two experienced policemen lost their lives after getting into an argument. The after-effects of the argument will now have to be borne by their families. Such incidents have a bad effect on the mental health of the entire police force," the editorial said.
Fadnavis, who holds the Home portfolio, had yesterday ordered an inquiry into the incident and said that he had sought a study on the mental condition of policemen so that steps could be taken accordingly to reduce their stress.